Business Maturity Lifecycle Assessment


Diagnostic 1: Do we understand where we are in the business maturity life cycle and its implications?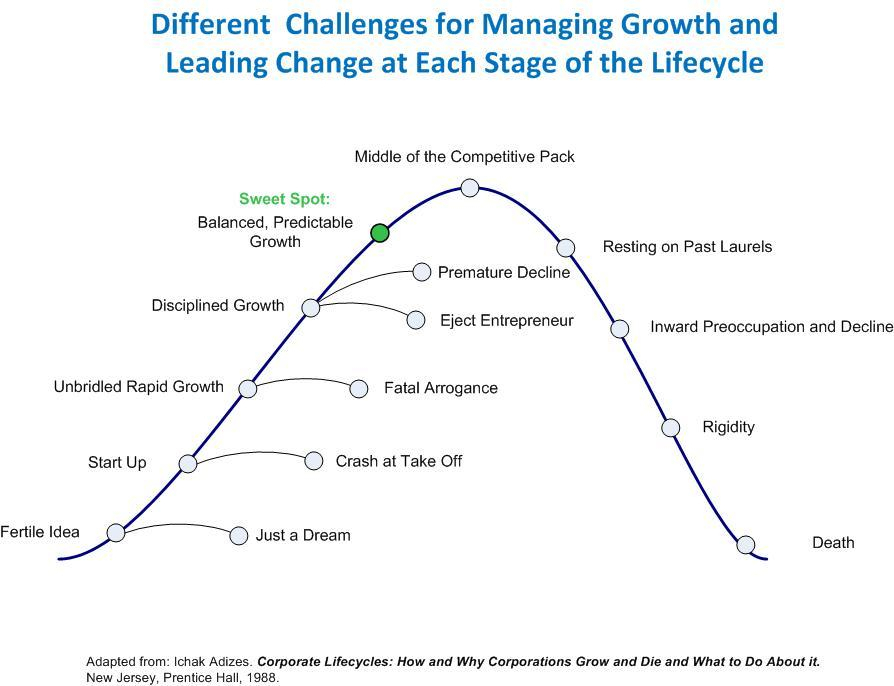 Is there agreement on where we are in the business maturity life cycle, an understanding of what the implications are for where we focus as a team, the kinds of problems we face with the intent to grow the business, and the likely organizational capabilities that we must develop or strengthen in order to competitively win?
Are we at the "Disciplined Growth" stage of development where we need to shift from pursuing every opportunity, whether those opportunities end up being profitable or not (hte Unbridled Growth stage), to having adopted the discipline to choose which opportunities to pursue and which ones to not pursue?

Or are we at "Middle of the Competitive Pack" stage and are we beginning to see the first signs of our diminishing effectiveness in the pursuit of growth, innovation, and new products or services?
Or are we at the "Resting on Past Laurels" stage where we have become more internally focused, appear to rest on our reputation of past accomplishments, and are overly focused on "form over function?" In this stage, how do we reignite renewal, growth, competitiveness, and entrepreneurialism?
Understanding the implications of the Business Maturity Life Cycle also allows the executive to adjust his or her essential leadership competencies, styles, and processes that are appropriate for specific stages of the life cycle but not for others. In addition, because each executive does not have the full complement of leadership and executive competencies required for each stage, he or she also needs to be thoughtful and intentional about ensuring that his or her leadership team possesses those complimentary styles and competencies, selects for them, supports them, and creates a working culture that constructively tolerates the inevitable conflicts that these complimentary styles will create.
For example, the entrepreneur in "Unbridled Rapid Growth" stage needs an executive counterpart role who can bring structure and discipline to managing the business without killing the entrepreneurial spirit. On the other hand, the highly structured, low risk executive and any team member who helps integrate the other members on the "Resting on Past Laurels" team will need to make space for more risk taking, innovation, and entrepreneurial ventures than the business may have become accustomed to and is comfortable with at this stage.

While this tool is more commonly used in Wave 1, it can be also be used at the Immersion Stage. It can be used to assess other parts of the organization that may be at different stages in evaluating the root causes of resistance. Or it can be used to create a common contextual mindset amongst a growing number of people who are participating in the deep dive diagnostic process in Immersion and its teams.
Executive Coaching Example: A Bull in the "Inward Preoccupation and Decline" Stage China Shop
From the beginning contacts with the headhunter, Michael was led to believe that he was being considered for a "turn around" situation. In our Wiznami® parlance using the business maturity lifecycle model, we assessed the situation he was entering as at the "Inwardly Focused and Declining" stage. Unfortunately, I was engaged as his individual executive coach four months after Michael was hired (instead of before "Day 1"), now to prevent him from derailing.
After conducting a series of confidential individual 360° feedback interviews, we discovered this was a situation where only Michael and his boss characterized the condition of his part of the larger business as needing a "turnaround." Michael and his boss realized that the other business stakeholders were inwardly-focused and complacent while the competition was quietly, but aggressively, stealing market share through the implementation of new technologies and better customer relations practices. This had been occurring for more than one year. Michael's business was now at a real competitive disadvantage and needed to at least catch up to the competitors.
Because Michael had not managed the change process well, failed to influence key stakeholders and opinion leaders, and did not create a sense of dissatisfaction with the current state or a sense of urgency to change in his interdependent horizontal stakeholders, he experienced the resistance to change similar to an organ transplant rejection. Others attributed his intensity, impatience, abruptness, aggressiveness, and seemingly over-reach for control as personal characteristics inconsistent with the culture and out of sync with what they perceived to be an otherwise stable business.
Through coaching, Michael was able to go back and reengage his horizontal peers and stakeholders. Using multiple influence skills developed through the individual executive coaching process, Michael "brought them along" to a similar assessment of the competitive challenges facing his part of the business, their root causes, what they could expect from him, and what he needed from them. He had to dramatically shift from being a pace-setting problem solver (lone wolf) to a more diplomatic and collaborative influencer. By the end of his first year, he was where he might have been in leading the change process by the end of Wave 1 if his transition had been effectively managed from Day 1. He had "lost" 8 months and had gone through hell. He never fully recovered his confidence, trust, and momentum and left for another external opportunity at the beginning of his and his team's successful launch of the Wave 2 changes.
---
Links to A Sample of Diagnostic Tools

1. Business Maturity Lifecycle Assessment (Current Page)

###
Wiznami Inc. is an a senior executive coaching service based in the greater Chicago area.